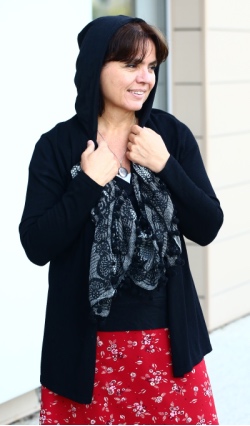 Art doesn't need to be understood. It's wants to be absorbed with heart and soul.
I like when it's close to our everyday routines. My biggest passion is painting. I've spent part of the 90's living in the South of France, where I was inspired by the unique, sunny palette. Here began my love of sun and intense colouristic, which characterises my paintings and gives me a lot of positive, creative energy.
In 2013 I've opened my first gallery "Atelier Magda Beneda" in Gdansk, at Szafarnia Street. For two years this was the place where I painted and eventually came up with the idea of transferring my paintings onto porcelain and eventually onto textiles. I wanted my art to be present in your everyday life. Communication with you  also became an inspiration for me to start a blog about the joy that painting gives me.
At the beginning of 2016 I've decided to look for a new location for my Atelier and I have moved it into the heart of Gdansk old town, onto Ogarna 101, where it is a part of the Gallery of Various Arts.
photo A. Mróz